Thank you, we have received your message and will be in touch shortly.
2020 JaguarF-Pace Premium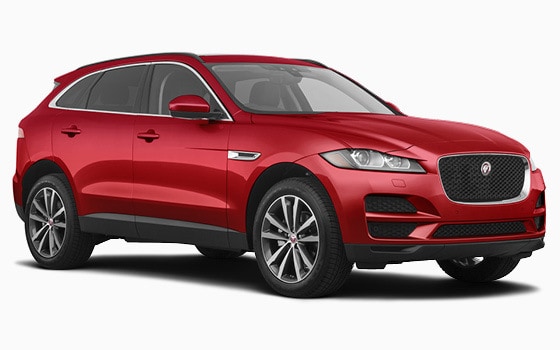 2020 Jaguar F-Pace Premium
Lease for
$615/mo.
39-month lease term
$5,500 Cash Due at Signing
$0 Secutity Deposit
7,500 miles per year
Stock# FP641340
View Disclosure
2020 Jaguar F-Pace Premium – MSRP $64,290. Stk# FP641340. 7,500 miles per year. $5,500 due at signing. See dealership for complete details. Offer expires 9/30/2020.
The F-Pace from Jaguar has been the brand's best-selling model, which explains why there were only a few minor changes to this year's model. You'll find that 2020 brings two new limited editions in the F-Pace in the form of the 300 Sport and the Checkered Flag Special Edition. If you're looking for a vehicle that can take you out to Ocala National Park with all your gear, you'll have 33.5 ft³ of cargo space to pack to the brim. The F-Pace blends superior luxury and a touch of rugged practicality in an incredible crossover package, giving Orlando drivers a reason to brave all the construction on its freeways. And when you're ready to step on the gas after being stuck in traffic on the I-4, the F-Pace is available in a supercharged V-6 to really get you going.
Right now, Jaguar Orlando has an F-Pace lease offer in Orlando that will add affordability to this vehicle's already impressive list of features. The F-Pace has solid fuel economy when compared to others in its class (around 22/27 mpg), and this is true even of its turbocharged models. Its interior is intuitive, so you can find and work all of the controls without getting distracted by extra buttons and knobs. The climate controls are perfectly positioned so you can cool off whenever the Orlando sun starts to show its true strength. If you happen to be driving around the beginning of hurricane season, the seating position puts you in the perfect position to work the wheel and pedals, making it easy to get to a safe spot without the drama. For drivers on the taller side, you'll be impressed with all the room upfront.
Jaguar Orlando — Your Jaguar Destination
Whether you live near Lake Buena Vista or Apopka, Jaguar Orlando invites you to learn more about our leasing terms and options for the F-Pace. We're here for all drivers who want a superior customer experience, as we think you'll find from the moment you step onto our fully stocked lot and chat with our friendly staff. Drivers around the Orlando area have come to count on us when they're looking for honesty about the vehicles they lease. We invite you to connect with us, so you can find out more about what we can do for you. You'll find us just off the I-4 on Millennia Blvd. whenever you're ready to test drive an F-Pace and see just how capable this vehicle really is.