Jaguar Concept Vehicle C-X75 Supercar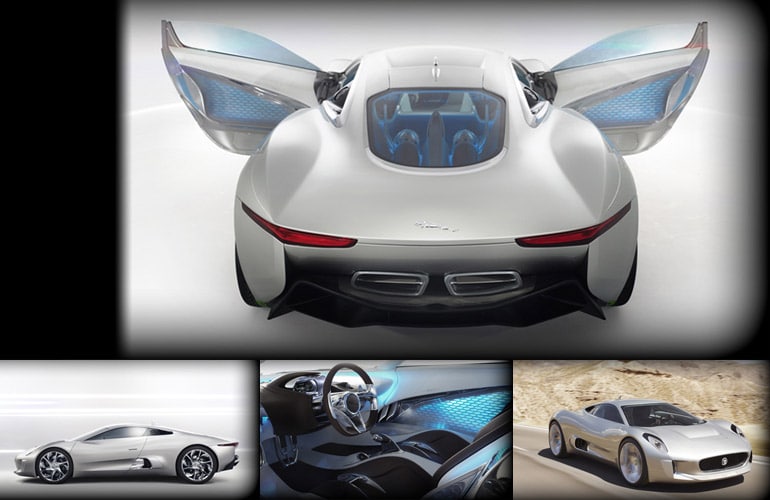 Jaguar C-X75 hybrid supercar concept.
For more details, submit the convenient contact form below or phone Jaguar Orlando at 888-671-3164.
Jaguar C-X75 -- The Jaguar Concept of the Future
Created to celebrate 75 years of Jaguar, Project C-X75 is the ultimate expression of the brand's design and engineering innovation. While not planned for production, the C-X75 concept will be used for continuing research and development of future Jaguar technologies.
Design Purity
The tubular "fuselage" shape of the C-X75 is clean and simple, yet stunningly beautiful. Its appealing design, however, is not at the expense of aerodynamic efficiency -- vital to a car with such high-speed potential. Notes Callum, "C-X75 is an exciting project for us and a clear statement of Jaguar's intent to continue creating bold, innovative and beautiful performance cars."
Setting the Bar Higher
Project C-X75 is designed to deliver stunning on-road performance, while adopting cutting-edge technology for remarkably economical running.
Incredible Acceleration
The dynamic styling of the C-X75 concept hints at its exceptional performance. Project goals are a projected sub-three second 0-60 mph acceleration time, and perhaps even more amazing, 0-100 mph acceleration predicted to be less than 6 seconds. This incredible performance will be accompanied by very low emissions, thanks to the vehicle's lightweight construction and cutting-edge powertrain technology.
Active Aerodynamics
The C-X75 concept was designed to achieve a top speed in excess of 200 mph. In order to maximize aerodynamic downforce and reduce high-speed drag, Jaguar designers developed a moveable airfoil and directional control of the exhaust gases. Such attention to detail in order to gain the next increment of performance typifies the Jaguar approach to this project.
Innovative Hybrid Technology
While the C-X75 promises supercar performance, it is also a low-emissions hybrid vehicle concept, with engineers targeting a range of up to 30 miles on electric power alone.
Ultra-Low Emissions
The C-X75 will help Jaguar explore ways to build a hybrid supercar that produces incredibly low CO2 emissions of less than 99 g/km. To put that into perspective, most new cars sold in the UK today are in the 121-150 g/km range.
Sustainable Performance
To optimize efficiency, a next-generation, downsized and highly boosted engine, developed in conjunction with Williams F1, was developed for the C-X75 concept in addition to a battery Kinetic Energy Regeneration System (KERS).