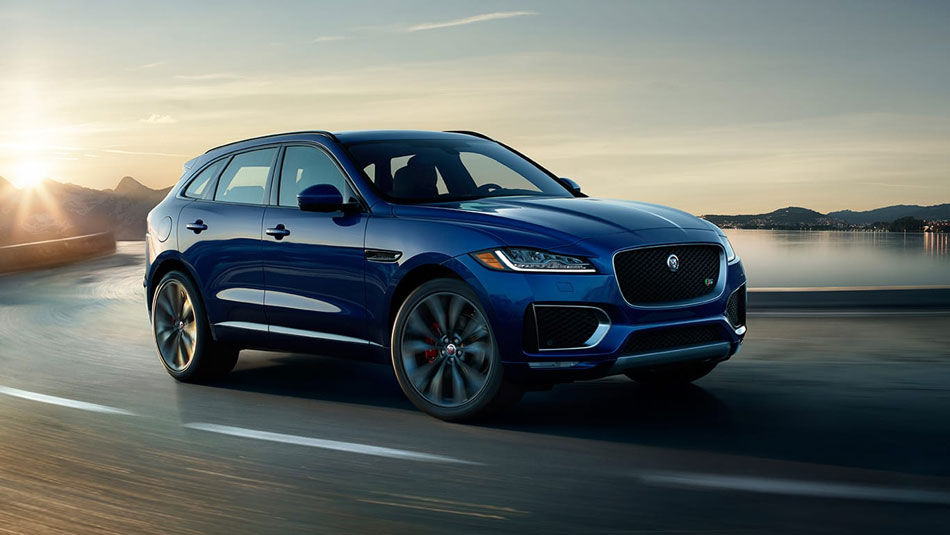 Who could have guessed Jaguar's most stunning car would be an SUV? The British brand has long been synonymous with beauty, but until now, that beauty took the form of sports cars and sedans. When the luxury automaker decided to enter the market for larger vehicles, many assumed it would have to lower its aesthetic expectations. But as the Jaguar F-Pace demonstrates, there's no reason an SUV can't exceed the standards of even the most luxurious sports cars.
Aesthetic Aspects
The new Jaguar is the work of Scottish car designer Ian Callum, who has helmned the company's design division for the past eighteen years. Callum had the paradoxical task of taking the traditional, rectangular shape of an SUV and incorporating the sleek, smooth look that Jaguar vehicles are famous for. This involved curving the vehicle's outer edges at every opportunity. The lift gate, for example, has a slight curve, which together with the long, thin tail lights give the rear a streamlined appearance. There are also dual exhaust ports on both ends of the lower rear, making the vehicle proportional.
The front is similarly streamlined, sloping upward slowly so as to hold the entire vehicle together. Its ventiports are long and thin, flowing with the curve of the vehicle rather than cutting against it. Due to the need for body consistency, the F-Pace lacks the traditional leaping jaguar on the end of the hood. Instead, it has a jaguar's face in the center of the grille, providing the same brand recognition without compromising the broader aesthetic.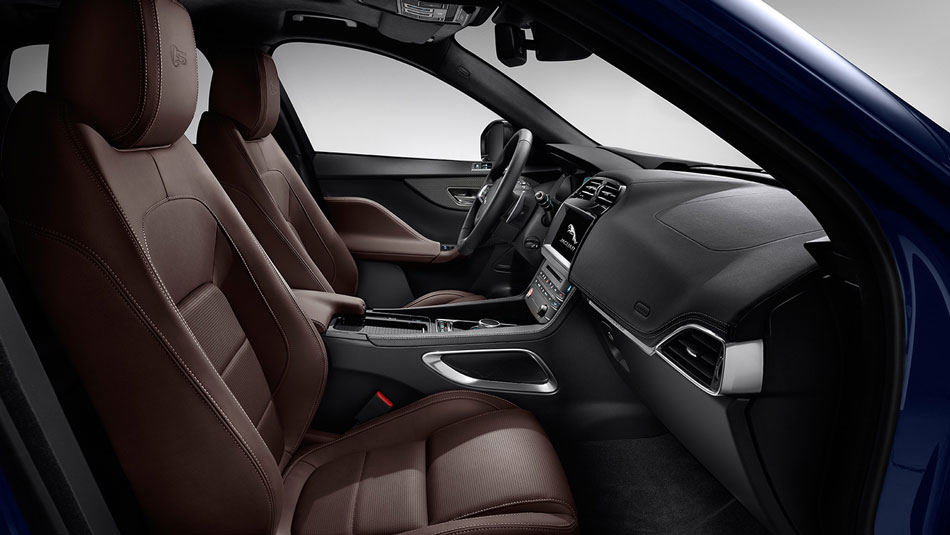 Interior Intel
In its quest to build the most beautiful SUV, Jaguar didn't stop with the exterior. The inside of the F-Pace is just as striking as the outside. The pitch black cockpit and driving equipment contrasts starkly with the light leather seats, illuminating the driver and passengers. The gearshift comes in knob form, taking up minimal space and giving the forward area an uncluttered appearance. The F-Pace also has houndstooth pattern door appointments, Windsor leather upholstery, and a panoramic moonroof.
In addition to beauty, the new Jaguar also maximizes comfort and convenience. To this end, it has:
Heating and cooling for all seats
A heated steering wheel
Adjustable climate control for both the front and the back
Digital & analog display instruments
Multiple driving modes, including one to save fuel, another for use in bad weather, and a "dynamic" mode to use for fun excursions
An "activity key." This waterproof device is worn on your wrist, and will open and close the SUV for you. This allows you to leave your keys in the vehicle without being locked out.
Extensive cargo space
The InControl Touch Pro, a multimedia infotainment system providing navigation, voice commands, and a variety of other features
Jaguar Orlando provides all of Jaguar's latest vehicles, along with detailed instructions on how to take full advantage of them. For more information on our latest vehicles and devices, contact us today.